As someone new to the Anthem, I thought I'd post this here. I have a small shop in Boston that specializes in left-handed fine acoustic guitars.
I just got in my first lefty Carter-Poulsen G Model guitar (lefty) and it's a beauty. I had Willie from CP install the LR Baggs Anthem pickup system in it (full system) and took the opportunity to plug it in and play straight through a QSC K-12 monitor, no EQ or compression, just straight from the board to the K-12. I was immediately struck by how true it was to what I was hearing from the guitar unamplified.
So, I did a little test. I mic'd the guitar about 12 inches off the neck joint with a pair of Peluso CMC-6 mics, in an X-Y pattern, through a pair of Golden Age MK73 II preamps, into my StudioLive Firewire desk. No EQ, no compression, no anything, just straight to disk, panned hard right and hard left.
At the same time, I ran a third channel with the Anthem output, again, no compression, no EQ. The Anthem was set to the full mic blend.
Here are the results, on Youtube ... link is HD. I think it's quite accurate to the actual sound of the guitar. You can hear a little more stereo spread on the mics, and a little hiss and room ambience. On the Anthem audio, I can hear the UST on the low notes and the brilliant highs are a bit more pronounced, and it's mono, but overall, it's very good for running direct with no tweaking. Great little system there.
Here are the videos:
Mics alone: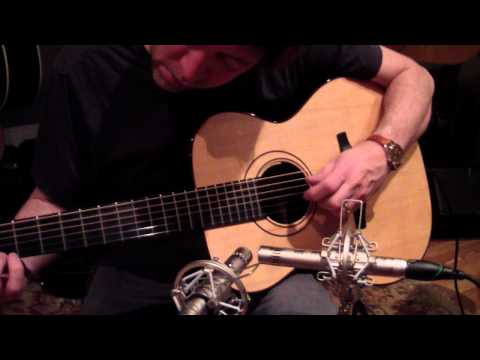 Anthem alone: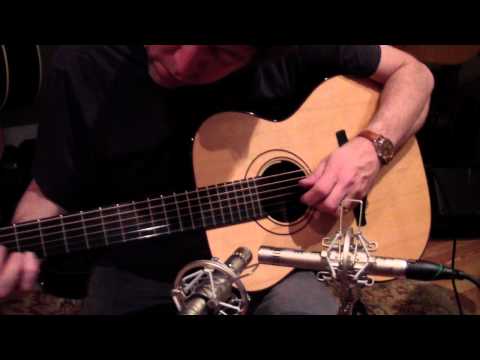 I've often been confounded trying to judge pickups from Youtube demos, because lots of time people play through an acoustic amp, or mic themselves playing through an acoustic amp and the guitar at the same time, and so forth. But this is something of an apples to apples test with no tweaking done. Hope it's illuminating. I will definitely recommend the Anthem to my customers and look into carrying it in the shop.